You've just bought yourself a new rifle, or perhaps you've been handed down a classic hunting rifle from your father and now you realize that you need a new scope. The choice of a rifle scope is just as important (if not more important) as the choice of your rifle – but you've come to the right place!
Best Choice
Good Choice
Don't Miss
Also Consider
Bushnell Trophy TRS-25 Red Dot Sight Riflescope, 1x20mm, Black
Simmons 8-Point 3-9x50mm Rifle Scope with Truplex Reticle
Simmons Truplex .22 MAG 3-9x32mm Riflescope, Waterproof and Fogproof Rimfire Rifle Scope
Bushnell Optics, FFP Illuminated BTR-1 BDC Riflescope with Target Turrets and Throw Down PCL, Matte...
Best Choice
Bushnell Trophy TRS-25 Red Dot Sight Riflescope, 1x20mm, Black
Good Choice
Simmons 8-Point 3-9x50mm Rifle Scope with Truplex Reticle
Don't Miss
Simmons Truplex .22 MAG 3-9x32mm Riflescope, Waterproof and Fogproof Rimfire Rifle Scope
Also Consider
Bushnell Optics, FFP Illuminated BTR-1 BDC Riflescope with Target Turrets and Throw Down PCL, Matte...
I have created this guide to help you navigate through all the available options and choose the best rifle scope for your gun. Whether you plan on plinking, punching paper, varmint hunting, or hunting big game, I hope this guide provides you with expert insight and allows you to get the most out of your money.
Best Rifle Scopes (Including Best Rifle Scope Reviews)
Now that you have a good understanding of scopes, including their construction and features as well as a list of some of the most popular brands, it's time to review some of the best scopes on the market today.
1. Leupold VX-I Rifle Scope Review
Leupold is a legend when it comes to building quality scopes that others can't beat for the price. They have some of the best technology and rugged dependability at an affordable price. Their glass and clarity is consistently better than most scope manufacturers. All of their rifle scopes are oxygen-purged and nitrogen-filled for a long life of waterproof, shockproof, and fogproof performance.
The VX-1 is perfect for hunting rifles including a 30-06 or .308 however it is at such a reasonable price that it is affordable for .22lr set-ups. This scope exceeds all expectations and is a fantastic scope for the money.
This riflescope has clear glass and is easy to set up and sight in over a few rounds at the range. I would suggest that if you are mounting this on anything larger than a .22 long rifle, that you should consider upgrading the scope rings. The VX-1 is likely one of the best hunting scopes for the money.
Specifications:
Magnification: 3-9x Objective Lens: 50mm Tube Diameter: 1″
---
2. Nikon P-223 3-9×40 Mate BDC 600 Review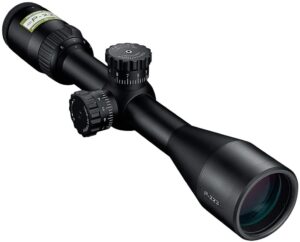 The Nikon P-223 is one of the top selling and highest rated hunting scopes on the market today, and for good reason. Built for an AR platform in mind, it has a generous, consistent eye relief which keeps you safe from getting scoped. Nikon's BDC 600 Reticle offers shooters and hunters unique open circle aiming points and hash marks from 100 to 600 yards.
The P223 reviewed has Zero-Reset Turrets positive click which gets you zeroed in quickly and allows you to maintain your setting. It is designed for the trajectory of a .223 Rem/5.56 Nato round with a 55 grain polymer tip bullet.
I found it crisp and sharp in low light conditions due to its light gathering ability and it was comparable to the Leupold VX-2 in terms of quality and ability. Nikon makes durable, long lasting riflescopes which makes this scope a top pick!
Specifications:
Magnification: 3-9x Objective Lens: 40mm Tube Diameter: 1″
---
3. Nikon ProStaff 4-12 x 40 Riflescope Review
The Nikon ProStaff 4-12x40mm features a multicoated optical system and a versatile magnification range at 4-12x with a 40mm objective lens capable of transmitting 98% of the light, making this the ultimate riflescope for hunting and shooting in low light conditions. At under $200, this scope is good for the price which is why it is one of the most popular and reviewed riflescope on Amazon.
It has all of the same features as Nikon's Prostaff 3-9x40mm with additional magnification which allows the shooter to feel confident with some of those longer shots over 300 yards. Not all guys need or want 12x magnification but if you do, this riflescope is a great deal and I would consider it one of the best value scopes today.
With a consistent 3.7″ eye relief, I have this scope mounted on one of my 30-06s and punch tacks at 300 yards at the range.
Specifications:
Magnification: 4-12x Objective Lens: 40mm Tube Diameter: 1″
---
4. Bushnell Trophy TRS-25 Red Dot Sight Riflescope Review
Bushnell's TRS-25 Red Dot allows for fast target acquisition in dim conditions and its Amber-Bright technology allows the shooter to distinguish easily between a brown tree and a brown critter. The TRS-25 is durable and 100% waterproof which makes this optic great on shotguns or on an AR platform.
The scope mounts easily on any Weaver or Picatinny rail and also comes with the CR2032 battery. The TRS utilizes a crisp, sharp red dot reticle and has easy to use features like a control knob to adjust the red dot power setting.
I'd like to point out that the Bushnell Trophy TRS-25 Red Dot Sight is not an Aimpoint. What I mean by this is that the riflescope doesn't have all the same features or quality of a $500+ red dot, however for under $100 this is the best selling red dot in 2015. Although the battery life isn't as good as Aimpoint products, I was presently surprised by its performance and quality.
Specifications:
Magnification: 1x Objective Lens: 25mm
---
5. Simmons 8-Point Truplex Reticle Riflescope 3-9x50mm Review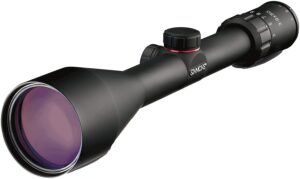 Simmons, manufactured by Bushnell, produces exceptional scopes for the money and would be consider an entry level brand. They produce great scopes for beginners or people just looking for a decent quality scope for their hunting rifle but don't have the budget for an expensive optic.
The Simmons 8-point 3-9x50mm is similiar to the 3-9×40 riflescope except with a bigger objective lens which does make it slightly larger and bulkier but does allow for a higher light transmission which will provide a clearer more defined image in low light conditions. It features fully coated optics and is waterproof, fogproof, and recoil proof which makes it a great multipurpose riflescope. This rifle scope is definitely a step up from Simmons 3-9x32mm 22 mag optic.
For the money, Simmons 3-9×50 can't be beat. For under $50, this scope is a steal! Whether it be for plinking, shooting paper, or hunting, the 3-9x50mm is a great buy and I would recommend this to anyone.
Specifications:
Magnification: 3-9x Objective Lens: 50mm Tube Diameter: 1″
---
6. Simmons .22 Mag 3-9x32mm TruPlex Reticle Rimfire Riflescope Review
The Simmons 22 Mag 3-9×32 is built for plinking and designed for the .22 lr (long rifle). It is inexpensive and an affordable scope for those beginners or those looking for a cheap scope for their 22 lr. Although some say that they have mounted the scope on larger calibre rifles and it continues to hold zero, I don't recommend it. If you are looking for a scope for a larger rifle for hunting and don't want to break the bank, consider the Simmons 3-9×50.
This riflescope is one of the most reviewed scopes on Amazon today for under $50 so there is a reason it continues to get strong reviews. The Simmons .22 Mag 3-9×32 is worth the money on your 10/22 or Marlin 22.
Specifications:
Magnification: 3-9x Objective Lens: 32mm Tube Diameter: 1″
---
7. Bushnell AR Optics Illuminated BTR-1 BDC AR-223 Riflescope Review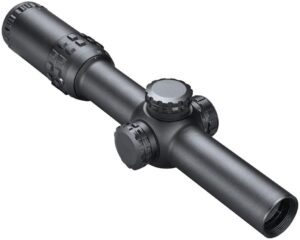 The scope has quality optics and I was impressed with how clear and bright the glass was. The scope can be used as a red dot at 1x and if you need to reach up further, simply increase the power of the magnification.
Specifications:
Magnification: 1-4x Objective Lens: 24mm Tube Diameter: 30mm
---
8. Nikon ProStaff 3-9 x 40 Black Matte Riflescope Review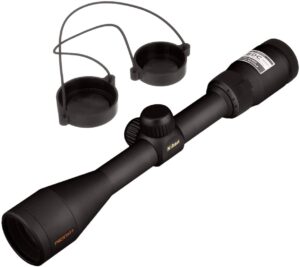 Are you looking for a great hunting or target shooting riflescope for the money? The Nikon Prostaff 3-9x40mm is currently one of the best value optic on the market. It features a fully multicoated optical system that transmits up to 98% of the light which allows this scope to work well in low light conditions such as dusk and dawn. Being nitrogen-filled and O-ring sealed allows it to also be waterproof and fogproof.
Featuring the BDC reticle, the Nikon ProStaff 3-9 is compact and yet it has plenty of magnification for most hunting and shooting applications. It has a generous and consistent eye relief at 3.6″ so there won't be any rough kickback from heavy recoil cartridges or lightweight rifles.
The ProStaff 3-9x40mm is easy on the budget which is one of the best features of the scope and is suitable for all sorts of different rifles from a .22lr, .308, and even on a 7mm Rem Mag. Based on my experience and review of this riflescope, it is a great product for the money and even comes with Nikon's lifetime warranty.
Specifications:
Magnification: 3-9x Objective Lens: 40mm Tube Diameter: 1″
Rifle Scope Basics
A telescopic sight, also known as a scope, is mounted to a firearm and used to magnify the target for mid to long range shooting applications including hunting and target shooting. Good riflescopes come in a variety of sizes and each optic will have different features depending on its intended use.
Scopes are categorized in terms of optical magnification and objective lens diameter. For example, a 10x30mm would mean that the optic has a 10 times magnification with a 30mm objective lens.
Variable magnification scopes (far more popular nowadays), as opposed to fixed magnification discussed above are shown as: minimum magnification – maximum magnification x objective lens. A classic variable power scope for long rifles of 3-9×40 means that the minimum magnification is 3 times, the maximum magnification is 9 times, and it has a 40mm objective lens.
Advantages of Shooting and Hunting with a Rifle Scope
I get this question all the time, "Should I use iron sights, or buy a scope for my rifle?" Now, before getting carried away and buying a $500 Leupold, make sure you are comfortable using iron sights and shoot confidently at 100 yards.
It would be awfully embarrassing to be out in the bush on a hunt with the guys only to have your scope fail and not be able to make a routine 75 yard shot at the prized target with the ol' irons. Using iron sights builds confidence and helps a shooter understand the basic mechanics of shooting and lining up your target using angular measurements which will help when you finally do decide to buy a riflescope.
A scope improves accuracy and allows you to see your target with clarity, even at long distances. Technology and improvements in rifle scope design have allowed even entry level scopes to improve accuracy at longer distances possible. With the increased confidence, you will find yourself more productive on hunting trips and having more fun target shooting.
---
Rifle Scope Components, Design, and Adjustment
Eyepiece and Eye relief
The eyepiece is the end which you look through towards your target. The eye relief is the distance between eye and the eyepiece that the user can see the full viewing angle. Obviously you would want a higher eye relief on a high recoil rifle so you avoid "scoping" yourself. For smaller rifles, including .22s, the eye relief isn't as important as the recoil on the firearm isn't enough to damage your eye. The eye relief on most scopes is between 3" and 5".
Reticle
There are a number of different reticles that telescopic sights come with, everything from a traditional crosshair to illuminated reticles. The type of reticle that will work best for you is totally personal preference; however I tend to stick with the traditional crosshair for my long range rifle scopes.
Power Ring
On a variable magnification optic, this is the adjustment to increase and decrease the power of the magnification or zoom. See the post "choosing the right magnification" for more information.
Elevation Adjustment
When shooting long distances, this vertical adjustment located on the top of the riflescope is necessary to compensate for the impact that gravity will have on the bullet.
Windage Adjustment
When hunting or target shooting with your rifle in windy conditions, sometimes it is necessary to adjust the scope left or right to improve accuracy. The windage adjustment is located on the side of the scope.
Minute of Angle (MOA)
MOA is an angular measurement. There are 360 degrees in a circle and each degree has 60 minutes. It is not a size at a certain distance, but an angle in the scope that translates to a certain size at a certain distance. To make things easier, think about it as about 1" at 100 yards. The point here is that your elevation adjustment will be key to shooting accurately at a distance.
Objective Lens
The objective lens is the most important aspect of your riflescope and serves to transmit light back to the ocular lens located in the eye piece. The larger the objective lens (ie. 50mm), the more light it allows in which allows the user to shoot in low light conditions but also the more weight it adds. See the post "What Size of Objective Lens is Right for Me?" for more information.
Adjustable Objective
If you are switching between magnification settings and shooting at long distances and require pinpoint accuracy for target shooting or varmint hunting (>200-300 yards), a riflescope with an adjustable objective (AO) may make sense. Parallax error is a phenomenon that makes it seem as though the reticle, in relation to your target, is moving and can impair accuracy.
Scope Rings
These are what attach the optic to the rifle. For big game hunting at long distances with a high calibre rifle, I recommend purchasing higher quality scope rings. The last thing you want is for your scope to loosen and loose its accuracy when you're out in the field. That being said, check to see if the scope you buy comes with rings or not. See the post "choosing the right scope rings" for more information.
Sighting in your Rifle Scope
Sighting in your rifle scope doesn't have to be a challenge. I get a lot of viewers asking for tips and tricks for sighting in their rifle scope.
---
Considerations for Choosing Your Rifle Scope
Determine the Application
Is this your first riflescope and you're interested in getting into sport target shooting? Are you an avid hunter looking to take down larger game at longer distances? These types of questions help determine where to begin and it's important to be realistic with yourself! A fixed magnification scope may be just fine for you if you are shooting small varmint or plinking, whereas some of you hunting folks may require some magnification and possibly an adjustable objective.
Determine Rifle Size
Will you be mounting the optic on a .22 or a 7mm – 300 Win Mag? The size of the rifle will impact which scope (and price range) will fit your needs. Low recoil firearms don't require the same quality of scope as the force of the bullet exiting the barrel doesn't dislodge or loosen the scope rings. Shooting at shorter distances also doesn't require the same magnification as shooting at long distances. As you increase magnification, you decrease field of vision. Less is usually more when it comes to riflescopes.
Determine Your Budget
Wifey isn't going to love it if you come home with a $1,500 Leupold VX6 (or maybe she will, however I know mine won't).The point is, determine your budget and set your expectations. You can get a good quality scope for $300-$400. And there are manufacturers who produce solid riflescopes for under $200.
Determine the Optic Brand(s) You'd Consider
There are dozens of brands from all over the world producing riflescopes. Most of them create a product that is solid and "you get what you pay for" while some you may want to flat out avoid.
Based on personal preference, there may be brands that you'll naturally lean towards or immediately rule out. And of course, your application (hunting, plinking, target shooting etc. ) & budget are going to cross a lot of the options off of the list.
---
A Complete List of the Best Rifle Scope Brands (Including Most Affordable Rifle Scope Brands)
There are dozens of brands, from all over the world producing quality riflescopes. Most of them create a solid product however the ol' saying holds true with scopes, "You get what you pay for".
Based on personal preference there may be brands that you'll naturally lean towards or immediately rule out. And of course, your application & budget is going to cross a lot of the options off of the list.
Barska
This company is based out of California and offers a range of sporting optics including riflescopes, binoculars, spotting scopes, and telescopes. Barska offers budget rifle scopes and would be suitable for low calibre rifles such as a 17 HMR or a .22LR rifle used for plinking or a day at the range.
The finish and clarity are surprisingly good for a high value scope and they are easy to dial in for accuracy. There is a lot of skepticism for buying a cheap scope however I found this scope held true for small game and target shooting under 100 yards. I tend to agree with Barska rifle scope reviews – they come with poor mounting rings however it's easy to pick up some aftermarket ones.
Leupold
The American Optics Authority – an iconic family business founded by 2 brothers in 1907 making surveying equipment by hand started making high-quality rifle scopes in 1947 after lessons learned from World War II. Today the company makes top-quality riflescopes, binoculars, waterproof spotting scopes, and even range finders for golf.
I love Leupold because of the wide range of riflescopes that they produce – everything from mid-range high-quality scopes to superior competition sniper scopes. Their products are excellent on the AR-15, 30-06, 300 Win Mag, and .308. The target comes up quick with the lenient eye relief and crystal clear glass.
Leupold scopes typically start in the mid $200s and the price range goes all the way up the $5000. With riflescopes, you generally get what you pay for – price equates to quality. As a side note, I love their recommended mounting system finder on their website which will tell the user whether or not the scope will fit on their rifle and with what mounting system.
Simmons
For over 25 years, Simmons (parent company Vista Outdoors) has established itself as high quality and high value producer of riflescopes, binoculars, spotting scopes, rangefinders, and trail cameras. Their scopes come in a variety of models with innovative features that are built to last.
I would say that Simmons produces very good entry level scopes for under $200. Their TrueZero windage and elevation adjustment does a great job of holding zero and their QTA (Quick Target Acquisition) eyepiece provides 3.5" of eye relief throughout the entire magnification range. Great value for a scope under $200!
Tasco
Yet another company under the Vista Outdoors umbrella, Tasco has been an American favorite in sporting optics for over 50 years. Their mission is to design and manufacture quality optics including riflescopes, binoculars, spotting scopes, telescopes, and trail cameras that fit every family's budget.
Very similar to Simmons, Tasco's riflescopes are of excellent value and perfect for target shooting and varmint hunting on your rimfire or .22 rifle. They even have some "higher-end" scopes that are very suitable for larger game on more powerful rifles.
Bushnell
An industry leader, Bushnell (parent company Vista Outdoors) has been producing high quality and high-performance sport optics for the past 65 years. The produce a range of optics including binoculars, riflescopes, spotting scopes, laser rangefinders, and trail cameras. They are unique because they produce riflescopes for all users – from beginner to top notch competition shooters. You can find a Bushnell scope at every price point!
Not only do they produce a high quality riflescope, I have found that they offer great tactical riflescopes at a decent price. Scopes come with all sorts of features such as variable magnification, illuminated reticle, and adjustable objective. Price ranges from $50 to $700.
UTG/Leaper
Another American company, Leapers Inc. has been supplying riflescopes and hunting gear since 1992. One distinction, Leaper has been manufacturing its UTG brand in the U.S. since 2009. The company offers low end products suitable for the average hunter with anything under a 30-06.
They have extremely compact models that are great on an AR-15. .22LR or a .17 HMR. Although it has held zero for the applications we tested, it has been known to lose accuracy with some of the high calibre rifles. I would recommend UTG/Leaper for plinking and target shooting but would avoid it for long distance shooting with the big boys.
Nikon
Manufactured out of Japan, Nikon has been manufacturing optical instruments since 1917. Best known for digital/film cameras, the company now produces a full range of sporting optics including binoculars, telescopes, and rangefinders.
In my opinion Nikon leads the way for manufacturing reliable, entry level scopes. They're not particularly fancy but the price is right and they generally hold up well compared to similarly priced scopes. For the price, Nikon optics offers a fantastic product that you can't go wrong with.
Weaver
Weaver is owned by Vista Outdoors (same parent company as Bushnell) and provides optics for shooters who're looking for an entry-level or mid-range riflescope. In addition to optics including riflescopes, binoculars, tactical scopes, dot sights, and handgun scopes, Weaver offers a range of other products such as mounting rings and bases.
Weaver specializes in providing entry level or mid range scopes below $200. The low to medium powered scopes offer a crisp view (not like Leupold), however tend to be heavier than its competition. This is not necessarily a bad thing if the scope is intended to be mounted on a bench/range gun however I would avoid this for avid hunters or those of you that expect to be carrying your rifle in the bush or purchasing it for your little gaffer.
BSA Optics
You can trace BSA's roots back to the early 1900s however BSA Optics was created in 1996 and builds riflescopes, binoculars, spotting scopes, lasers, red dots, and other shooting accessories. BSA is a British company and is known for entry level scopes at very affordable prices.
What I like about BSA is their flagship riflescope introduced in 2004 that was the first riflescope specifically designed for the .17 HMR, the "sweet 17" series. Their scopes range in price from $50 – $250 and they make affordable and durable red dot scopes as well!
Vortex Optics
Located in the heartland of America, Vortex is an American family business built by veterans. Vortex hasn't been in the optics industry for a long period of time, however, they are quickly making a name for themselves.
Avid marksmen will often tell you that hands down, Vortex offers the best VALUE in the industry.Vortex offers a full range of scopes, so regardless of what you're shooting at, where you're shooting or your budget you can get setup.
Schmidt & Bender
One of the leading suppliers of precision scopes in the world, Schmidt & Weston is a family business that has been designing and building high end sporting and hunting scopes for over 50 years. If you are looking for the best of the best, this company has it!
These quality riflescopes come in all variations with all sorts of features. The price ranges (hold your breath) anywhere from $1500 – $10,000 – not for the average hunter or sport shooter.
Nightforce
These guys build the toughest scopes going. Their entire product line stands up to harsh conditions, including being submersed in water, thrown around in dirt, dropped on rocks, and it's even been said that some models are bullet proof. Nighforce definitely knows how to build scopes for the military however I've even started to see them on the range. If you have the budget and you know you're going to be brutal on your scope, Nighforce could be for you.
Millet
Another company under the Vista Outdoors umbrella, Millet began in the 1970's originally making aerospace equipment and soon became a leader in the metal injection molding process. They began building scopes in the late 1970's and now use a computerized system to test scopes which simulates actual shooting conditions with a 30-06. They know build high end scopes and long range scopes in addition to tactical equipment used by military and police forces globally.
Aimpoint
Started in 1974 by a small group of Swedish entrepreneurs, Aimpoint was built on the premise that shooters should be able to acquire their target fast and to hit moving targets in all weather conditions. Their breakthrough technology (Red Dot Sights) allows you to acquire your target with both eyes open.