Whether you are shooting prairie dogs, squirrels, or coyotes, your choice of scope (and rifle) will be an important consideration.
After all, you don't have the ability to miss and still expect a kill shot at a prairie dog at 200 yards
That's why trying to find the best varmint scope / best predator scope is important.
Top 4 Best Varmint Scopes
UTG Compact Bug Buster 3-9×32
BSA Sweet 17 Varmint 6-18×40
BARSKA Varmint 6.5-20×50
Tasco Varmint 6-24×42
Once again, we've narrowed the list down to the best varmint scopes. It was very fun to do so. Keep reading to see how we came up with the top scopes for varmint hunting!
Quick Navigation
Best Varmint Rifle Scopes for Varmint Hunting in 2018
Whether you are shooting varmint for fun or just getting rid of the pesky critters and stopping them from digging holes in the back 40, we've got you covered with a complete analysis and review of the best varmint scopes for hunting. These scopes will also do well if you are hunting predators as well.
Varmint and Predator Hunting Quick Overview
Varmint hunters use everything from a 22 lr, 17 HMR to a .223 depending on what size of predator they are hunting.
Coyote hunting used to be an activity that hunters did in the off-season however it is becoming more popular as a means of managing these predators in areas where they have become a problem. In recent years, coyote fur prices have also fetched a pretty penny which has been a driving force in attracting hunters to this type of predator hunting.
Whether or not you are shooting at short distances such as 100 yards or longer distances over 200 yards, varmint hunting is often done in low light conditions.
It is important to choose a scope with the appropriate objective lens with adequate light transmission to give yourself the best chance to execute a kill shot. Bipods are a great way to add to your accuracy when out varmint hunting.
Varmint Scope Considerations
Just like choosing the best rifle scope for hunting, choosing your scope for varmint and predator hunting requires some unique considerations.
Your choice of rifle calibre and ammunition will be the biggest factor and you must match the predator scope with the varmint rifle. The size of the varmint or predator that you plan on hunting will drive the decision on choosing the best scope. If you want to shoot prairie dogs or squirrels, a smaller rifle such as the .22 lr or .17 HMR will likely be enough.
If you are interested in shooting coyote or making long distance shots, I would suggest that you step up to something like a .22-250 or a .223.
Of course a larger rifle will be more expensive both in terms of the actual firearm but also the added cost of ammunition. It is always a constant trade-off.
The second factor that will help narrow down the list of the scopes that you should consider for your varmint rifle will be your budget.
Most guys don't have Donald Trump's bank account so we are always on the lookout for the best deals on rifle scopes and finding the best varmint scope for the money.
If you want a decent scope for shooting squirrels with your 10/22, then you can expect to get a great deal on a highly reviewed scope for under $100.
If you want a scope that will stand up to more recoil on something like a Remington .22-250 or a .223, I would recommend spending a bit more but you can most definitely get a great all around varmint scope for under $200 or even under $500.
Varmint hunting scopes are almost always best in variable magnification. It is awfully hard to see little critters in in shadowy places so I tend to recommend a bit or a longer magnification range for varmint hunting.
9 or 18x magnification at the top end is a pretty decent starting point. With that being said, use your judgement. If you only require a 100 yard shot, a variable magnification lens up to 18x may be overkill.
Best Varmint Hunting Scopes Reviewed
1. BSA 6-18X40 Sweet 17 Rifle Scope Review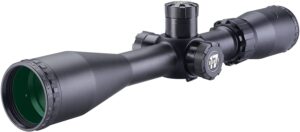 The BSA Sweet 17 comes with a side parallax adjustment and a multi-grain turret, specifically calibrated for the .17HMR 17gr. and 20gr. bullets. With a 4″ consistent eye relief providing a clear and wide field of view and 6-18x magnification, this rifle scope is great for a .17 HMR. It has multi-coated lenses for a clear, bright image throughout the magnification range. Looking for more information about the BSA Sweet 17 Scope?
Mine arrived on time as promised and I took it to the range mounted on my Ruger 77/17VM BBZ, used my laser bore sight, zeroed it in at 50 yards then immediately went out to 200 yards and was able to group at 3″. Don't be surprised if at 200 yards it needs some parallax adjustment, however mine didn't.
If you are varmint or predator hunting with a 17 hmr, the Sweet 17 manufactured by BSA is probably the perfect fit for your rifle. It comes with a lifetime warranty from BSA and is also shipped from Amazon with 2 lens covers as well as a cool sun shade. For the money, the Sweet 17 is hard to beat.
Specifications:
Magnification: 6-18x
Objective Lens: 40mm
2. BARSKA 10-40X50 AO Varmint Mil-Dot Riflescope Review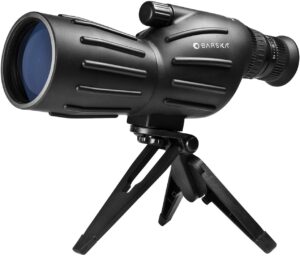 The Barska 10-40x50mm is one of the best varmint scopes built by Barska and is incredibly versatile – it can be used for varmint, target shooting, and long range shooting. As with the BSA Sweet 17, it features an adjustable objective lens for accuracy which is somewhat uncommon on scopes under $100. The larger objective lens will allow for more light transmission which will create a clearer image in low light conditions such as when you are hunting at dusk or dawn.
It features a 1″ tube, 1/8 MOA click adjustments, multiple reticles, and has a decent 3.6″ eye relief. Note that this varmint scope doesn't come with mounting rings. I would suggest getting a set of extra high due to the size of the objective lens, however it is rifle dependent.
One disadvantage of using this scope for varmint or predator hunting is the size and weight of the rifle scope. It feels a bit heavy and bulky which is because of the huge magnification range and the large objective lens. If you are using this rifle on the back of your tailgate or have a bipod or bench to rest it on then no problem! However if you are like me and want your varmint scope to be light so it doesn't feel heavy on a .22 LR or .17 HMR, then perhaps this scope isn't for you.
Specifications:
Magnification: 10-40x
Objective Lens: 50mm
3. Tasco Target/Varmint 6-24x42mm Rifle Scope Mil Dot Reticle Review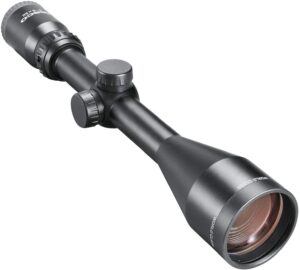 The Tasco Varmint 6-24×42 features high quality multi-coated optics that produce clear, bright images. It has a rugged construction that is waterproof, fogproof, and shockproof, and features a True Mil-Dot reticle. There is some confidence that I have for this varmint scope because it is built by Bushnell. With a 3″ eye relief and decent field of view, this scope is great on a smaller varmint rifle such as the .22 lr or 17 HMR. I haven't tried it on a larger rifle such as a .223 or 22-250 because even out at 200 yards it starts to get a little bit blurry. Typically when I need that type of reach, it is on a larger rifle. However it does provide decent magnification and a prairie dog at 100 yards looks awfully close.
Specifications:
Magnification: 6-24x
Objective Lens: 42mm
4. Leapers UTG 3-9×32 Compact CQB Bug Buster AO RGB Scope Review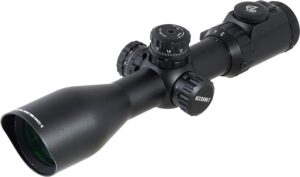 Leapers UTG 3-9x32mm bug buster is compact and is built completely sealed and nitrogen filled which is fogproof, rainproof, and shockproof. The leapers 3-9 has a 1″ tube with Emerald coated lens for a clear, unobstructed view and maximum light transmission. This guy is compact! It has all of these features jammed into under 10″. If you want a scope with all the bells and whistles for under $100, this scope should be high on your list.
I would suggest that this is on the lower end of quality for a varmint scope. It is very popular with great reviews because it is affordable for all of us. If you are saving up for 1 predator scope that this may not be your first choice. With that being said, I have 2 of these and 1 of them is mounted on my son's little 10/22 because it is lightweight and is a decent scope.
Specifications:
Magnification: 3-9x
Objective Lens: 32mm
Final Thoughts on the Best Varmint Scopes
There is no doubt about it, varmint and predator hunting are becoming more popular and therefore the technology is following pace.
You can get great varmint scopes for hunting under $150 now. The historical rule of thumb that you need to spend 2 to 3 times the price of your rifle on a good scope is no longer. Thankfully, that means we can all buy quality scopes and not break the bank.
Most guys I know hunting varmint such as coyote and prairie dogs to stop the devastation that these animals have on their livestock and farm land. You can even get good money for the coyote fur these days which makes it even more enticing.
Without a doubt about it, the UTG Bug Buster varmint scope offers the best bang for your buck. The scope is clear and allows you to reach for some of those long distance prairie dog shots!
Stay safe and happy shooting!