In today's world, AR has become one of the most common rifles in America and throughout other parts of the world. It is incredibly customizable, lending to people being able to get exactly what they want and need out of their ARs.
So, what is the Best AR Magazine?
Today we will look at a few different AR magazines and what they can offer you in performance, durability and other factors that should be important to you as a shooter.
What to Look For
With so many things to customize and change, something that is often overlooked is the ar magazine, which as far as shooting the AR, can be one of the most important parts! Finding the best ar mag for an optimized shooting experience can be harder than one may think, luckily there are lots of options out there and things to keep an eye out for.
Durability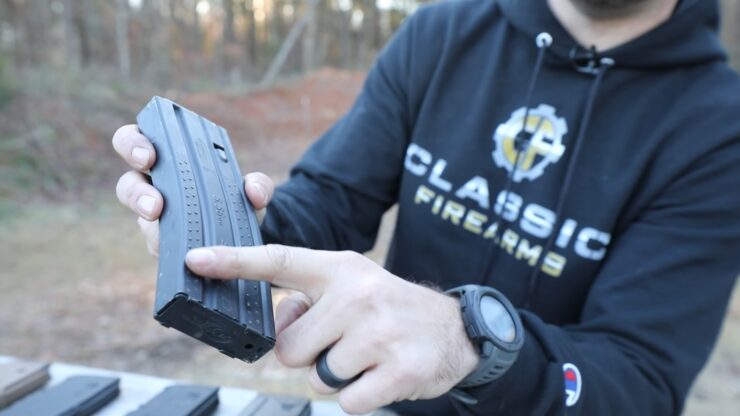 You are going to want to think in terms of durability. How long is the ar magazine going to be able to last and under what use and conditions? You are going to want something that will be able to stand up to the conditions.
AR magazines, even the best ones, may constantly drop. When loading a mag under fighting conditions, for example, even the best ar mag is likely going to drop straight from the mag well to the ground. You need something that will stand up to countless drops.
Performance
The magazine is what gets your firepower into the gun and ready to go. You definitely don't need magazines failing on you. You need something that will perform, even under less than ideal circumstances if need be.
Some things that contribute to performance include the material the ar magazine and its components are made from, the follower, and how extensively the magazine has been tested.
List of Best Ar Magazines for Ar-15
We've narrowed our choices down to 4 of the most popular ar 15 magazines that we know will perform for you if you need magazines that will stand up to a beating and perform for you, especially when you need them to.
Here's our top 4 best ar-15 magazine choices:
1. Magpul PMag Gen M3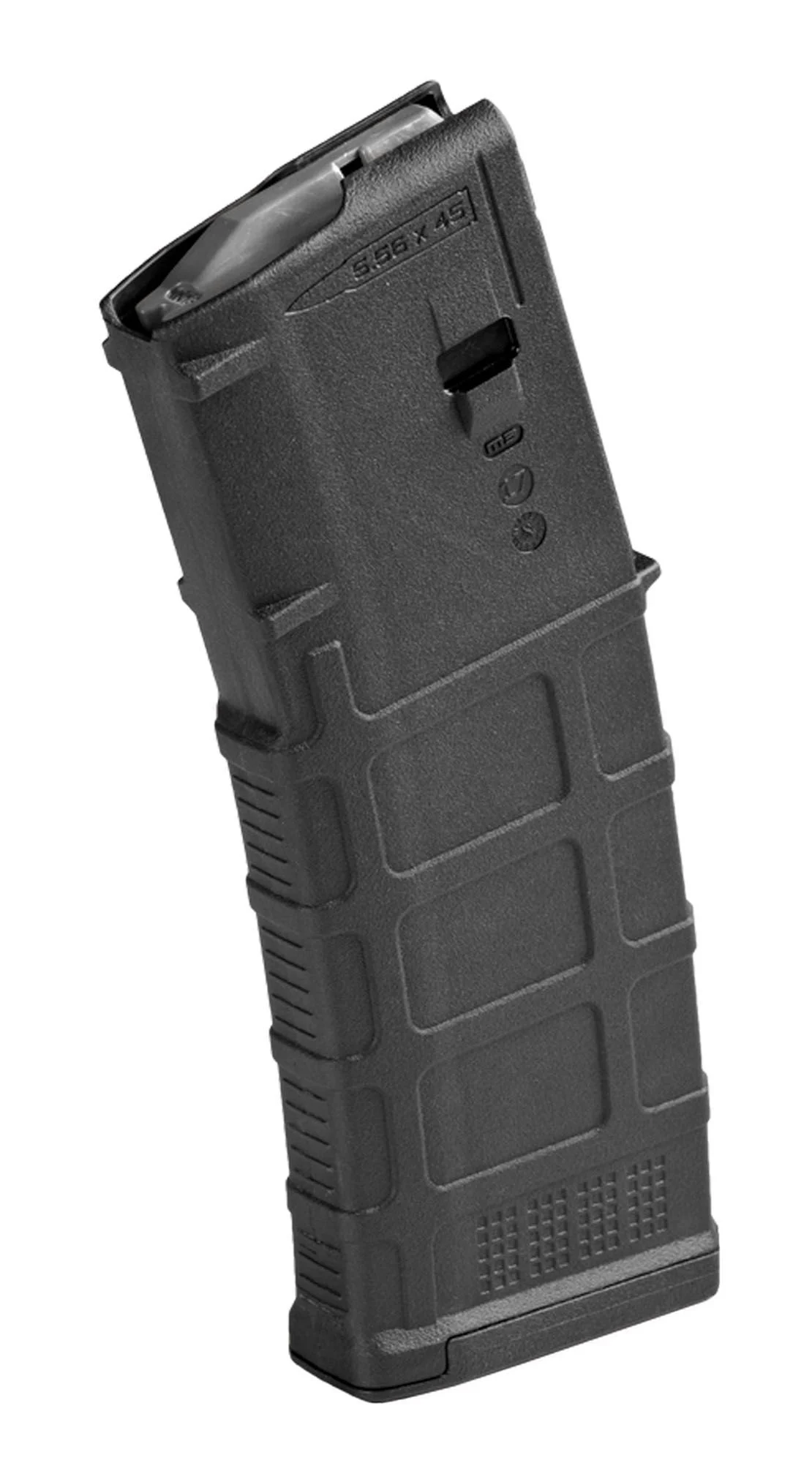 If the Magpul PMag wasn't on the list, you'd probably be very surprised. As far as AR 15 accessories are concerned, Magpul is one of the most well known names, and for good reason. Pmag magazines are popular and making mainly polymer products, Magpul quickly rose to the top of the AR parts industry. They are known for incredible durability and unshakable performance and in making great pmag magazines.
Before Magpul releases a product, they put it through rigorous testing including drop tests from higher than normal drops and other various torture tests, in both hot and cold environments.
The PMag, now being manufactured in its 3rd generation, brags of solid polymer construction. Brownells says the Gen3 PMag "further expands the strength, reliability, and versatility of the original PMAG." We strongly agree.
All the PMag generations have been great, and they just keep getting better.
A Note About Anti-Tilt Followers
Something else that you should definitely look for with a magazine is an anti-tilt follower, which the Magpul PMag has. The follower is generally plastic and is the part of the magazine that sits on top of the spring and bringst the rounds into the chamber.
An anti-tilt follower will give you more reliability. It helps the follower to go down and back up inside the magazine evenly, thus making loading the magazine easier, as well as (and more importantly) helping the rounds to stay level when loading into your AR itself, keeping your gun running as long as you need it to.
PMag's come in 10 round, 20 round, 30 round, and 40 round variations. Magpul also offers a 60 round drum option. They also have a few variations with a window giving you the ability to see approximately how many rounds you have left with just a quick glance.
PMag's also come in two different colors, black and flat dark earth.
If you are looking for a super solid polymer style magazine, we would highly recommend the PMag. It has definitely proven itself a high-quality product. Magpul is a United States based company and PMags are made here in the USA.
2. Heckler & Koch Steel Magazines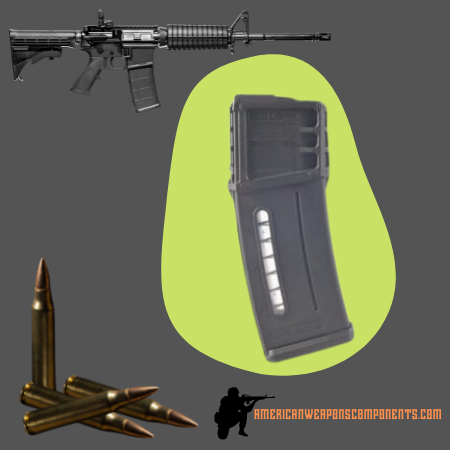 Heckler & Koch (HK) magazines are made in one of the most well known styles: good old fashioned steel. HK's 10 round steel mags are tried and true.
Towards the Vietnam war, the military began looking more into 30 round magazines. During Vietnam, the military used 10 and 20 round box magazines and towards the tail end of the war they introduced a very limited quantity of curved steel magazines for use in the M16.
The HK steel magazine is a good example of these magazines that were used quite a bit in military service, but when the polymer magazines like the PMag came around, most people switched to those.
A lot of people still like the steel mags because they are solid mags. They have a good weight to them, definitely heavier than the PMag and other polymer AR magazines there are out there.
They offer a nice smooth drop when doing a mag change because of the extra weight. The HK magazines feature a steel body and also a steel follower. The steel follower is anti-tilt.
These magazines are considerably more expensive than their polymer counterparts, but don't knock 'em til you've tried 'em (and you should try 'em!)
HK steel mags are an old, tried and true magazine. they come in 10 round, 20 round, and 30 round variations.
3. Hexmags AR-15 Series 2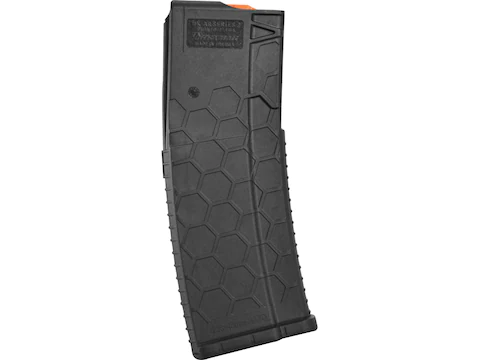 Hexmags are another excellent choice when it comes to choosing the best AR 15 magazine. Hexmags are made of a tough polymer, much like the PMag magazine.
The Hexmag offers a hexagonal pattern (which has been patented) for improved grip, which will aid in reloading and also in stripping the magazine if that need arises.
Hexmag, LLC also boasts that it is one of the industry's best options when it comes to disassembly with no tools required. They also have a strong spring that has been heat-treated so you can leave them loaded for a long time.
Hexmags also features an anti-tilt follower for reliable feeding. These mags are also an excellent choice. They are usually a bit easier on your wallet as well, generally tending to be a bit cheaper than their polymer and steel competitors.
Hexmags can be found in a variety of colors like flat dark earth and olive drab green, and they also have a unique feature; a color-coded ammo identification system. This helps you make sure that you don't mix magazines that belong to different calibers.
Say that you have a .308 AR-style platform rifle around as well; the Hexmag color coding would help you to make sure that you didn't mix that up with your 5.56 magazine/rounds and have an accident when you need it the least.
The color-coding has the different colors at the bottom of the magazine, as well as the follower itself, being that color, helping you ensure both while loading the magazine and while loading the magazine into your rifle that you don't mix up your different caliber rounds.
Hexmags come in 10 round, 15 round (which is different from most manufacturers), and the standard 30 round capacities Ar-15 Series 2 15-Rd Magazine.
4. Lancer Advanced Warfighter Magazines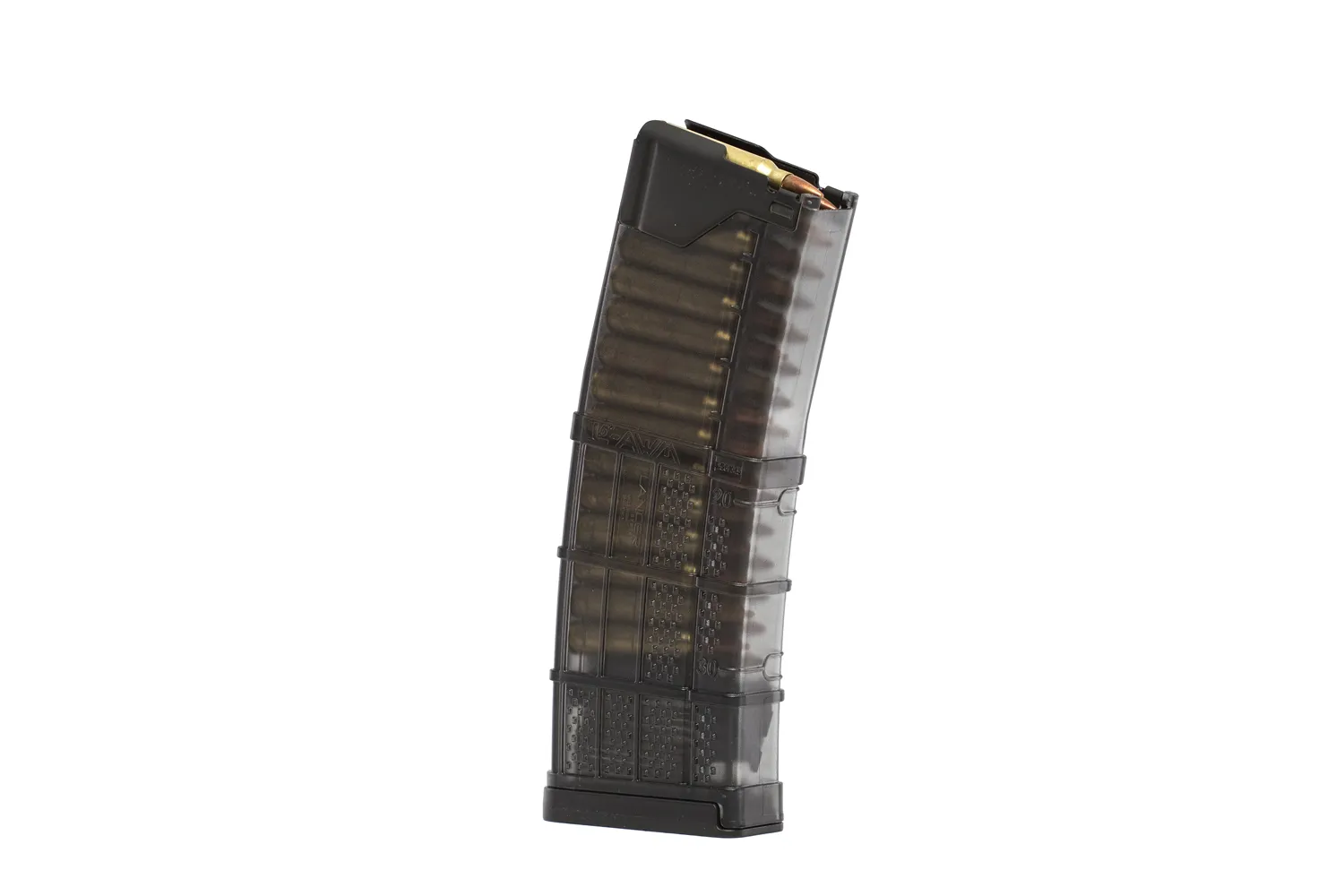 Lancer L5AWM (advanced warfighter magazines) mags are arguably the best go-between for the difference in steel and polymer magazines. They feature a little bit of both.
The body and the follower are made of polymer, which contributes to the lighter weight of the magazine.
The feed lips, however, are made of steel, offering to reliable feeding. This also helps when leaving your magazines loaded for extended periods of time, helping them to not become misshapen.
This polymer/steel hybrid makes for a very durable magazine.
Lancer mags also offer a couple of other cool features including translucent colors like smoke gray, clear and an awesome translucent red. They also come in the standard black and flat dark earth.
Their translucent mags offer round count markings to help you see how many rounds are left with markings at both the 30 and 20 round areas.
Lancer mags come in 10 round, 20 round, and 30 round capacities.
Lancer L5AWM magazines are tried and true and offer some awesome features. They are a great pick if you are looking for something in both the polymer and metal categories.
| | | |
| --- | --- | --- |
| Lancer Advanced Warfighter AR-15 Magazines | Rating | |
| Ar-15 L5awm Translucent Smoke Magazine 30-Rd | 5.0 | Check Price |
| Ar-15 L5awm Translucent Clear Magazine 30-Rd | 4.9 | Check Price |
| ​ Ar-15 L5awm Opaque Flat Dark Earth Magazine 30-Rd | 4.8 | Check Price |
| Ar-15 L5awm 10rd Opaque Black | 4.8 | Check Price |
Which to Choose? Best AR-15 Magazine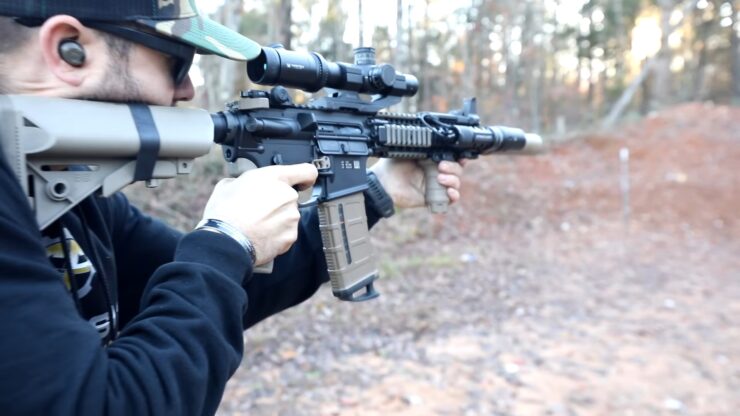 We recommend the Magpul PMag AR magazine. It is simple, rugged, durable and it has proven itself through years of use, both in the military overseas and by gun-loving Americans here at home.
The PMag is generally inexpensive, and you can even buy them in bulk. We suggest buying as many as you can to meet your needs, whether that's for plinking around or for the ever-more-important task of protecting yourself and your loved ones.
Magpul is made here in the United States, so you'll be supporting an American company that loves guns and your right to own and shoot them. They even moved their production from the state of Colorado when the state passed restrictive laws on magazine capacity.
We think that the Magpul PMag is the best AR 15 magazine and we highly recommend it.
We hope this narrows down your search in finding the best ar 15 magazine for your needs.
Stay safe and happy shooting!